Paris, France

"Health technology assessment provides the best available information for taking relevant and appropriate decisions that will improve quality of care and result in optimal use of resources and staff."
– Mr. François Romaneix, Director, HAS
History and Structure
The Haute Autorité de santé (HAS) became operational on January 1st, 2005. It is a consultative body providing independent scientific advice to the French public authorities. It was formed by the merger of ANAES (French National Agency for Accreditation and Evaluation in Health), the Transparency Committee, and the Committee for the assessment of devices and health technologies (CEPP) – two committees previously run by AFSSAPS (Agency for the Safety of Healthcare Products) – and FOPIM (Fund for the Promotion of Medical and Health Economics Information). The objective was to bring together into a single body all the expertise needed for patient-centred continuous quality improvement.
Mission
HAS' mandate is to improve the quality of care delivered to patients through measures such as the production of good practice guidelines, the development of disease management programs for chronic conditions, continuing professional development (CPD), and accreditation of health care organizations. Practice appraisal becomes compulsory for all practitioners. HAS also assesses the expected and actual clinical benefit of drugs, medical devices, and diagnostic and therapeutic procedures and advises the authorities on their reimbursement. HAS will certify prescription software and compliance with the medical sales representatives' code of practice.
How HAS Works
HAS is governed by a board of eight members; the Board Chair is appointed by the Head of State. HAS may perform assessments on its own initiative or at the request of government (eg the Ministry of Health), national health insurance, learned societies, users' associations, etc. There are seven specialist committees, each chaired by a Board member. Each Board member is responsible for the policy, strategy and executive powers of their committee, and sets up working groups. Each Chair is supported by an operational manager who reports to the Director of HAS.
Dissemination Activities
Dissemination strategies involve communicating with the media, editing and publishing reports, professional and public conferences, and exchange of information at local, regional, national and international levels. Information posted on our website (abstracts, reports, etc) is continuously updated. Assessment reports and documents supporting decisions are posted on the HAS website.
Current Projects (A Selection)
Non-invasive methods for the diagnosis of hepatic fibrosis in chronic hepatitis B and C
Intra-thoracic surgery under cardiopulmonary bypass and need for a second surgeon
Laparoscopic vascular surgery
Tension-free Vaginal Tape and stress incontinence in women (update)
Synthetic mesh for vaginal repair of pelvic organ prolapse
Transexualism
Enteric nutrition and endoscopic gastrostomy
Carotid angioplasty.
Future Plans
HAS is a fairly new body. It has created effective cross-functional relationships to capitalize on existing expertise and is concentrating on developing coordinated actions – in response to its manifold mandates – that will encourage quality improvement at all levels of healthcare.
---
Agency Information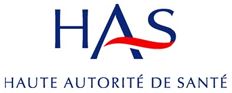 Country: France
Description of population served: National
Population served (mil): 65
Current HTA budget (mil USD): 1
Permanent staff: 17
Consultants: 225
Ongoing TA projects: 11
---
Contact Information
Director: Mr. François Romaneix
Contact person: Dr. Jean-Patrick Sales
Haute Autorité de Santé
French National Authority for Health
2, avenue du Stade de France, Saint-Denis La Plaine
FR-93218 Paris France
Tel: +33 1 55 937188
Fax: +33 1 55 937435
Internet: http://www.has-sante.fr